3G Video Alarm with PIR & SD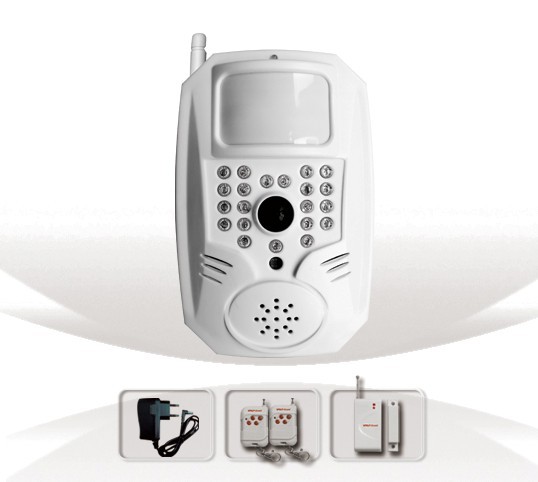 Model: CJ-818M8B 3G Video Alarm with PIR & SD
Main Functions
1 Support WCDMA/HSDPA/GSM/GPRS/EDGE working model.
2 Built-in 2,000,000 pixels night vision camera, suitable for night use.
3 Support PIR motion detecting, can take photos once trigged alarm.
4 Send scene photos(MMS) to user phone/ e-mail address/IP address.
5 Support video/MMS/SMS/voice call/video phone/e-mail/IP network to alarm.
6 SMS content of each zone can be edited.
7 Support 2GB SD Card to storage image and video.
8 Image size: UXGA (1600×1200),video size: QVGA(320×240).
9 16 wireless zones, each can be programmed independently, eg: arm, disarm and 24-hour arm.
10 Can dial to 5 user phones and 1 monitor center and 1 SMS center when alarming.
11 Set the time of reporting, timing report to monitor center.
12 Supports GPS positioning, applied to automotive systems.(optional)
Specifications
1 Frequency: WCDMA/HSDPA: 850/1900/2100 MHz
EDGE/GPRS/GSM: 850/900/1800/1900 MHz
2 Wireless sensor receiver: ASK
3 Wireless Frequency: 315/433 MHz
4 Wireless Baud rate: 500-2500bps
5 Wireless sensor supported: 16 pcs
7 Wireless Remote working distance: 80m
8 Camera Definition: 2000K pixels
9 Video format: 3gp
9 View angle: 100° (level), 60°(plumb)
10 Night vision distance: 8~10 m
11 Lithium battery capacity: 800mAh
12 Battery life for standby: 24 hours
13 Working temperature: -10℃~+45℃
14 Humidity: 10-90%
15 Power adapter: Input100V~240V/50Hz Output DC 5..0V/2A
16 Camera Dimension: 130×90×40mm (Lx W x H)
17 Weight : 0.8kg