GPRS Multimedia message& photo taking alarm system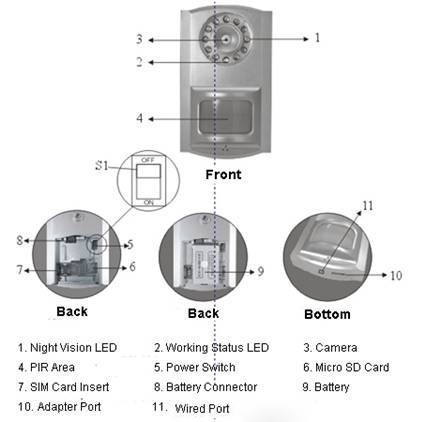 Model: CJ-818M6B GPRS Multimedia message& photo taking alarm system (1900/900/1800MHZ)
This product is multi-functional with PIR, photo-taking, video recording and MMS. It's very convenient to setup and operate on it. Once anybody enters into the defense zones, it'll automatically take scene photos and send to mobile phones for alarm in time; it can also record the real-time video as proof for later checking. When you're not at home, you can control the device by SMS, make it take scene photos and send them to mobiles via MMS. It's widely used for families, shops, garages, financial rooms and other important places.
To better use the device, please read this manual carefully before usage. If any question, please contact our service department or local sellers for consultation.
Functions
1 Detect illegal intruder by built-in PIR detector;
2 Built-in 300,000 pixels night vision camera;
3 Can connect with 50 wireless detectors;
4 Timing ARM / DISARM with 5 time periods and 3 date models ;
5 Can send SMS or MMS to 6 mobile numbers via GSM;
6 Can send scene photos to 6 E-mail addresses via GSM;
7 Auto dial the numbers 5 times circularly, and starts to record for 1-9 minutes.
8 Support Max 8GB Micro SD Card to save photos and videos;
9 Can arm / disarm / listen-in / intercom / take photo remotely via SMS or call;
10 Can set various functions and inquire about the settings via SMS or phone;
11 Can recognize the alarming zones by SMS content;
12 Can set MMS website and IP;
13 Can edit alarming message content of every zone by SMS.